Tudor History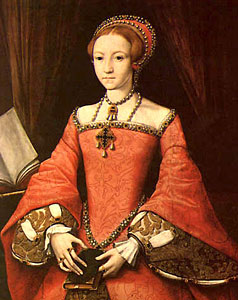 TudorHistory.org Provides a biography and photo gallery for each of the Tudor monarchs, as well as for the six wives of Henry VIII.
Tudor England Tudor England was a time of great change in England and some of the Tudor kings and queens remain some of England's most famous.
The Tudors This page makes available some of the academic and student-related material about the Tudors for which I am regularly asked and which, especially in the case of AS/A2 and undergraduate material, updates Tudor England. You can also find the texts of some recent formally scripted public lectures about the Tudors that I gave at the Folger Shakespeare Library, Cambridge University, the Institute of Historical Research, and the Bath Literary Festival.
Tudor England 1485 to 1603: Table of Contents Information on all of the monarchs, as well as quizzes and images.
TudorHistory.co.uk The Tudors first came to power in 1485 when Henry Tudor defeated Richard III at the Battle of Bosworth Field. He then became the first Tudor King - Henry VII. The father of one of England's most famous Kings, Henry VIII, his reign was troubled yet also brought about unification within the country. Until that point England had been divided between the Houses of Lancaster and York (the Wars of the Roses) - Henry VII's marriage to the daughter of Edward IV united the two houses. Henry IV's death in 1509 saw his son take the throne as Henry VIII. He is perhaps best known for marrying six times and for executing/divorcing his wives when he felt like getting a new one! His first wife Catherine of Aragon was divorced, Anne Boleyn was executed, Jane Seymour died shortly after giving birth, Anne of Cleves was divorced, Katherine Howard was executed and Katherine Parr survived Henry. He had three legitimate children (Mary with Catherine of Aragon, Elizabeth with Anne Boleyn and Edward with Jane Seymour). All three of his children would ultimately take the throne. His marriage habits saw Henry VIII end Catholic rule in England - he had to cut ties with Rome to divorce Catherine of Aragon and marry Anne Boleyn. This saw the birth of the Church of England. Henry VIII died in 1547. Henry was succeeded by his only son who became Edward VI at the age of 10. The country, however, was run by his guardians (or Protectors) the Dukes of Somerset and Northumberland due to his young age and to the fact that he was not a healthy child. Edwards reign was short - he died in 1553 at the age of 16. It is thought that the Duke of Northumberland persuaded Edward to name his relative Lady Jane Grey as heir rather than his elder sister Mary. Mary was a Catholic and the dominant nobles of the time wanted to guarantee Protestant succession. Lady Jane Grey did take the throne - but ruled for only 9 days - she was executed once Mary and her supporters won the right of succession back. Mary I is often referred to as 'Bloody Mary' as she attempted to turn the country back to Catholicism by executing large numbers of prominent Protestants. Her younger sister Elizabeth was herself in danger many times as she remained a staunch Protestant. Although Mary had been popular with the people when she was usurped from her rightful position of heir she did not remain a popular Queen. This was a time of religious turmoil and she made things worse by marrying the King of Spain, Philip. Mary I died childless in 1558. Mary was succeeded by her younger sister who became Elizabeth I. Elizabeth restored the country to Protestantism and led it into what is known as the 'Golden Age'. During her time England claimed superiority in Europe and all over the world. Known as the 'Virgin Queen' Elizabeth I managed to avoid marriage throughout her reign and died childless in 1603. The Tudor reign in England was over - she was succeeded by the Scottish King James VI who became James I and who ushered in the time of the Stuarts.